(To ensure there's no confusion here: I am not a lawyer, I am a writer who has an interest in this subject because I would like to not be sued or ripped off. Noble motivations, I assure you.)
Last month I mentioned something about an upcoming Star Trek production and it stirred a lot of debate about the legality of fan films. At the time, I wasn't even trying to claim anything about legality because, frankly, that can't be determined until after the lawsuit's long over. And, while people are incredibly passionate about that debate, I'm not actually so angry that I could go on talking about the production for much longer. It's not that I don't care, I do, but the emotion that would best describe my reaction would be "disappointment".
Still, there is something about the topic that I am fairly passionate about. Long time readers could be confused how I could come out so adamantly against the likes of Shia LaBeouf for plagiarism and copyright infringement but defend fan-works like Axanar so often. The two points of view may be seen as contradictory in the eyes of some, but they're all part of a general philosophy I have regarding copyright. Basically, thieves should be treated as such, but fan works need not necessarily be considered thieves.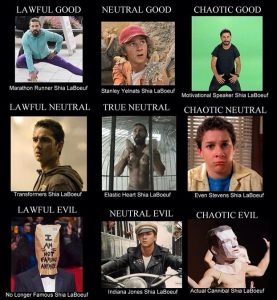 I believe in a system that protects creators, doesn't naturally favor the wealthy, and provides some limited protection for fan productions as creators in their own right. The way I've seen it for a long time, that's not quite what we have. Instead, our system tends to bend to the whims of whoever can afford the best legal team. And, because of that, I'm often disappointed in general at the way the system's carried out. To put it another way: guys like Shia LaBeouf get away with it because the system we have now lets them while even the most innocent of fan productions could be shut down at a moment's notice. Would I consider Axanar as "the most innocent"? No, but that's why I'm more disappointed than angry.
So it's not that I want to tear down the copyright system, far from it, creators like me need more protection from the likes of LaBeouf. However, when I look at fan productions I don't see the enemy so much as I see people who are either trying to get started as creators or trying to show their love for the work of another creator. Plagiarism and copyright infringement are matters of theft, but I don't feel most fan productions should fall in that category and right now the law basically says they do.
What I'd want is clear and common sense legislation to guide fan works in a way that won't hurt the original creators. Many believe that legislation already exists and mention repeatedly that's the whole point of "Fair Use". But, as much as people would want to believe Fair Use provides that common sense protection for fan works, it really isn't as clear as people would think it is. The fact of the matter is, even seasoned professionals often overlook the fact that Fair Use, like most of copyright law, is incredibly subjective and, frankly, has lost some of its power in the last few years.
Unless, of course, you can afford to defend it…
Fair Play
Fair Use is a deceptively simple concept. The idea is that you can use someone else's IP, sometimes even verbatim, provided that you have sufficiently met certain criteria. The first that most people cite is the lack of profit, though it should be noted this is the rare example where copyright even cares if you make a profit. Generally, copyright treats all copying as equal and the profit motive is only rarely something brought into consideration. In fact, even within Fair Use, it matters surprisingly little. Meanwhile, the second thing that people often cite is the act of being "transformative". What exactly counts as "transformative"? Most people have no clue, but they're pretty damn sure they do – which is a truly transformative interpretation of facts.
The best part about people throwing these two into every debate on the subject is that neither one of them is in any way clear enough to determine something before it reaches a court. And, funny enough, that's by design! Because, you see, Fair Use isn't a law – it's a legal doctrine, and legal doctrines actually don't mean anything outside of a courtroom. Every time you've tried to cite Fair Use on something you've created? That's just telling the people who might pitch a fit at you that you've got some idea of how you would defend yourself in court. Well, if your opening statement of curling up into the fetal position and sobbing doesn't work.
Despite having loopholes big enough to drive a truck through, copyright law in theory should be fairly clear cut. Did you get caught in a theater holding a camcorder? You're a pirate. Did you print off copies of a DVD and sell them at a discount? You're a pirate. Did you sail the Caribbean fueled by nothing by rum and greed? You're a pirate, and not because of what you did to those poor people in the last boat, but because Disney saw you and that's their turf.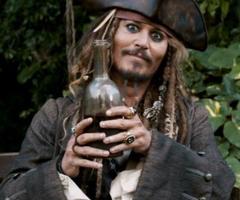 However, outside of loopholes, the grayest part of copyright has to be that space where Fair Use lives. Legal doctrines are sets of instructions and guidelines, a framework literally built out of opinions and decisions of the past. The function of a legal doctrine is to give the court a general idea of how previous courts decided – and no one part of it is actually legally binding. Think about it, the most visible expression of Fair Use is the almighty parody and those tend to make a profit. Movies like Space Balls, Galaxy Quest, and Scary Movie have all existed well within the bounds of Fair Use and yet have made a tremendous amount of money over the years. In fact, if you've watched the Scary Movie franchise, you know that particular nugget has probably made too much money.
So one would think that the fact they were so clearly transformative – never using the original characters, props, or designs – protected them. But that's actually not so true, because there is a field of "parody" that often times uses certain elements of the original verbatim. These productions will often use the original costumes, designs, character names and even sometimes personalities without a care in the world. And, while often times being classified as parody, they tend to not be very funny at all. Because the thing I'm talking about is the internet's answer to just about all problems – porn.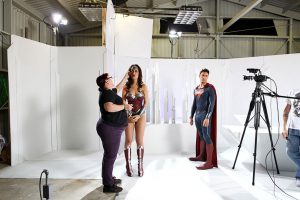 Porn parodies are a fairly lucrative market. In fact, not long ago there was buzz that the use of Superhero IPs was probably going to help boost sales. And not once, in any of these conversations, was the idea of legality ever addressed. In fact, the unofficial rules of the internet, particularly rule 34, state that if anything exists there must also be porn of it. And, frankly, that rule hasn't been disproven yet. These are not non-profit productions either, as only a select few special individuals will publicly show their sex tapes for free. Yet still they get made, unimpeded, with nary a lawsuit against them. Sometimes they have to cover under the label of "cosplay" video, but generally you're going to see these individuals acting as the characters they portray.
Think about it, you know right here and now that if you wanted to you could probably find a video of Superman showing Wonder Woman he's more powerful than a locomotive. You could also find Batman showing her what else he keeps in his utility belt. And, if you really want, I'm sure there's a hardcore version of Batman v Superman out there right now if you're willing to search long enough. In fact, I know for sure, since they were newsworthy for the quality of their costumes. In fact, sometimes the costumes are more detailed and true to the source material than their official counterparts – yet there seems to be no effort to stop these from being made. After all, if it was easy to get sued for it, the industry wouldn't risk it – they're already sucking things for money.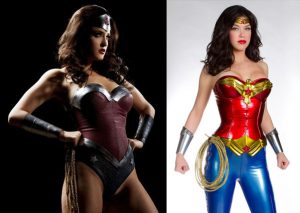 So what we know is that profit, in and of itself, doesn't necessarily derail Fair Use. It's a consideration, but simply crossing that line isn't enough. In cases like this, people often fall back on the idea that it's transformative, which completely works in the case of the parody classics I mentioned before. But how transformative is pornography? If they use the same designs, characters, and mannerisms of the characters they're portraying – is it really transformative that they just happen to be going the extra inches? If so, does that mean a Star Trek fan film merely has to out-Kirk Captain Kirk? Do there need to be more Orion girls to fill some sort of booty quota?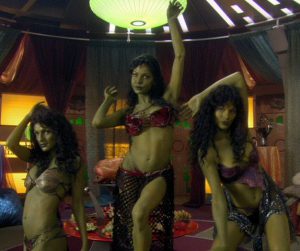 Unfortunately, the answer doesn't really exist in the every day situations. Fair Use's status as a doctrine means it is constantly changing and is almost always tinged with the subjective opinions of a single court based on sometimes arbitrary details. Just so recently as 4 years ago, we saw the very fabric of copyright change for media like video games because a judge actually took the opinion of bloggers as evidence. That's right, the words "this game is a clone", happened to decide a copyright case and is now a part of the very doctrines we're talking about. But, okay, that just means close calls can be really fuzzy and you have to be as firmly transformative as possible to be in the clear, right?
Trick question. There is no clear, there never was, and if you doubt me, ask the guys who made Chroma Squad.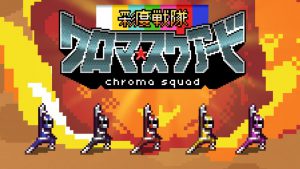 Chrome Squad, a small indie game out of Brazil, was a strategy RPG based on the Tokusatsu genre – particularly Super Sentai. By the metrics most people in the world would use, Chroma Squad should have met every single critera for Fair Use. It never once in the course of the game uses a trademarked image, a character name, or any IP verbatim. It is firmly within the parody category, mocking every aspect of the genre with loving detail and throwing in spoofs for shows not well known in the US. It was even meta-humor, being that the premise of the game was following the exploits of stuntmen trying to make their own TV show on a razor thin budget. Yet, while the world would agree it was entirely in Fair Use, one organization didn't – Saban.
Saban entertainment, who holds the rights for distribution of Toei's Super Sentai shows here in the states, took one look at this clear parody and threatened to put a stop to them. Behold Studios, the makers of Chroma Squad, scrambled to try to figure out what to do about the whole situation and quickly started to talk to Saban about how to make it right. Saban, having all the leverage in the world, then forced these people to give them a cut and then credit them as being the inspiration for the game. With no real resources to fight it, Behold Studios had to submit, and what was once a parody of an entire genre was now relabled as being inspired by Power Rangers while Saban gets a royalty for every copy sold.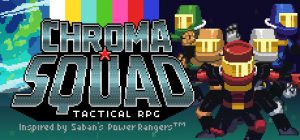 Nevermind the fact that Behold Studios is from Brazil, where they had Toku shows long before Saban started to produce Power Rangers and that the game's theme is in shoddy japanese.  Nevermind that Saban's never released or even developed a strategy RPG. Nevermind the fact that the game features references to shows that Saban holds no rights to such as the Metal Heroes and Kamen Rider series (which was last brought to the states as an indie production). In fact, not a single one of Saban's trademarks was violated and the only solid connection to the whole thing was the use of the word Sentai, the colorful costumes, and the fact they had a robot made of cardboard. Saban wanted its money, Saban got its money, and Fair Use didn't come into the equation at all because Behold couldn't afford to fight it.
Of course, there are a lot of layers to this issue, too many to really talk about in short order. But the purpose of this was to simply show the one truth about Fair Use. The Fair Use doctrine really does work – if you can afford it. Like most parts of copyright, the concepts of Fair Use are so subjective and sometimes arbitrary that the entire battle is often determined by who has more resources.  And the saddest part is that we've reached a point where even the big corporations aren't always sure what counts as "Fair Use" anymore. There's no real way of knowing how it's going to play out until you're sitting in front of a judge – though you may make some educated guesses and hopefully steer clear. But, because it's often so unclear, if I see signs someone's acting in good faith, I have to give them that benefit of the doubt. Because as they always say: don't hate the player, hate the game…
Just not necessarily this one.
(I write novels and tweet. I have been plagiarized once, but it was minor, so I only cut off their hands. Damned twitter thieves.)