It's been weeks and you just can't shake the feeling. You met with your friend at that party not too long ago but something was different. You can't quite put your finger on it, but it didn't sit right with you. They didn't seem like themselves. Maybe it was the drinking, or the night's festivities. Maybe it was even the outfits.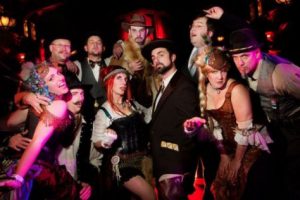 But whatever it was, you're fairly sure, that was not your friend doing that keg stand while a dozen people, men and women, dressed as Wonder Woman chanted their name. They insist they're still the same person, even tried to prove to you that they knew your secrets – even that one about the dream you swore them to never tell anyone ever again. But, in the days since the Equifax breach, you just can't be too careful. Sure, you've locked your credit. You've gotten identity theft coverage. You've been doing everything you can to be absolutely secure. But let's face it, there's no way to be sure anymore that someone isn't stealing from you at this very minute – and they could have found all that information somewhere else. So now, as you've taken every sane precaution possible, one last thing has to be investigated…
What if your friend's been replaced by a Shapeshifter?