There's a saying that has always stuck with me over the years: "everyone sees themselves as the hero of their own story." And it's true, no one does an action thinking they are the absolute villain. They had reasons, they felt motivations, they were doing what they thought was right. Yes, they may later regret their actions, but in the moment of doing them they felt correct even if everyone in the world may think otherwise. No one commits crime because they want to be the bad guy – either they've convinced themselves that they are in the right or they have a mental condition that detaches them from a sense of right and wrong. Even the greatest monsters in human history were convinced of the righteousness of their own cause, no matter how abhorrent their actions seemed to the rest of the world.
So then applying that sort of thinking to your fictional characters can make your villains feel all the more real. If you make it so that you can see where the villain is coming from, it feels more natural to us by default because we can understand, on some level, why they would act that way. Do we have to agree with their actions? Not at all. But if we can understand why the villain thinks they're right then we can at the very least feel like that villain was realistic, even if their methods and actions are far outside of the realms of reality. For instance, while none of us would have the opportunity to assemble a gauntlet of god-like power, a lot of us could understand the motivations for wanting to do so.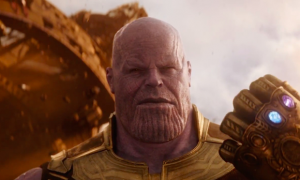 But one of the problems with writing villains in those grey areas is that sometimes people mistake moral objection with a plot hole. We all do it on some level, seeing mistakes made by characters – whether they be due to a lack of planning or lack of moral fiber – as a mistake by the creators and not simply a failure of the character. Sometimes, this results in people demanding answers to questions that were actually answered within the material. And our balancer of the universe, Thanos, is no exception to this. Faced with the uncomfortable ramifications of Thanos' ruthless "solution" to a problem he saw as a threat to the universe, a lot of people online cried foul and some even said it was a failing of the movie. Then, in almost every case where someone pointed at this "failing", they inevitably recommended a solution of their own – almost always the same solution.
Ironically, the solution those critics recommended kind of prove that Thanos' mistake wasn't a plot hole. Because, when you step back to actually consider it, the solution everyone recommended would actually kill more people than Thanos did… Continue reading Thanos And Objectionable Choices →