It's 2015 and the internet is full of jokes about how this is the year Back to the Future II was set. Everyone was giddy about the fact someone actually built a semi-functional hoverboard late last year with plans to put together a skate park for it in the coming couple years. Because, of course, when people think about the future, they get most excited about a flying plank than something like, say, fusion reactions powered by garbage.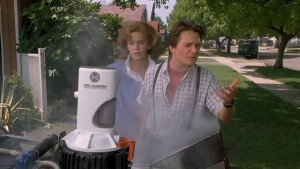 However, recent stories in the news and the internet's echo chamber have me realizing just how silly we've been about the whole future thing as of late. As sci-fi writers, the goal is to try to envision the little problems of today being fixed tomorrow and see if we can manage to get it close enough that people believe it could happen. But one of the oddities of the last few decades has been just how often we try to credit sci-fi with "inspiring" good ideas. Problem being: good ideas tend to inspire themselves, while good sci-fi is making an educated guess.
A great example of this would be the fact cellphones temporarily looked an awful lot like early Star Trek communicators. During the time when flip-phones were the dominant life-form of the electronic landscape, everyone liked to pass around the image of Kirk holding the old flip open communicator and going, "See? It's all true!"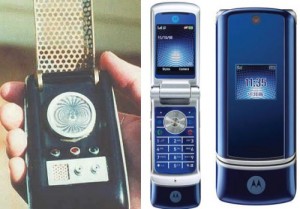 But it wasn't, because we've already moved past the flip phone and onto a superior and completely different beast in the form of PDA inspired smartphones. Basically, if Kirk's communicator were the good idea, rather than a good guess at what would eventually come, then we wouldn't have moved past it to better ideas that were never really shown to exist in that universe.
Lately, though, we've been trying to force our pop culture into becoming "real". Sometimes that can lead to good things, other times it leads to wasting time or skipping past better ideas so we can scratch the itch. Which, leads to the question…
Continue reading Sci-fi Isn't The Future, It's Just A Tribute →