The Muses, guiding the human race since the dawn of civilization and showing us the path to grand new ideas. Throughout the history of mankind we've called on them for their inspiration and wisdom. This has led us from living in simple huts to constructing glistening towers of glass and steel. We've gone from struggling to tame animals to being able to surpass their talents with powerful machines. We've achieved things never dreamed of, reaching an age of endless wonder and scientific miracles.
But sometimes those Muses are not doing it with our best interests at heart. For every story of inspiration out there, there have been just as many stories of tortured and tormented minds, chasing a dream. Writers, artists, and great thinkers throughout history have been consumed by their goals and driven to the brink of madness. Some of them have turned to drugs. Others have become isolated loners with severe social issues. The stereotype has long held that the most brilliant of minds are often also the most unhappy. This can certainly be blamed on the Muses.
Why do they do this to us? Is it because they have a sinister goal to consume us? Do they want to profit from our hard work and leave us shattered people in their wake? Are we just really neurotic monkey people who happen to need a scapegoat for the fact we sometimes lose our minds once we're stuck on a thought?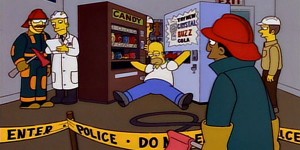 We may never know the answer to these questions. But what we do know is that, when the Muse is upon you, she may drive you to your limits. Certainly you've felt it: the thinning patience, the build of stress, doubts and fears beginning to creep through your mind. It's time to learn how to deal with the Muse, before she destroys you! Continue reading Coping With A Pushy Muse →