You've exited a long tunnel and found yourself in a place with somewhat dusty air under a colorful yet unnerving sky. There's a faint scent of moisture, but no sign of rain, almost like the Earth itself is sweating. A walnut tree stands in front of you – a strange one that doesn't seem completely natural. The longer you stare at it, the stranger the sky becomes. Is that a T-Rex skull trying to eat the sun or are you tripping balls?
No time to think about that, the tunnel has closed behind you and you've realized you have jack all in your pockets except some old movie ticket stubs, lint, a fist full of Mexican Pesos, and that "special" brownie you were saving for Christmas. You need to figure out what to do next.
>EAT BROWNIE|
That wasn't exactly helpful, and now you have no choice but to sit and wait for your legs to exist again. In the meantime, you've decided to pass the time by reading a blog post you just found on the ground. You can't quite figure out why there's a blog out in the middle of nowhere but it probably has something to do with the brownie…
Adventures of Varner – Chapter II
Now, I know what you're thinking, "That was pretty weird, dude." But I really didn't have much of a clue how to start this after moving my blog after all these years. I stuck with the old green monstrosity for so long that I grew to love the ugly bastard. Even as I thought of changing its layout, I couldn't quite bring myself to do it most times. Nostalgia is a hell of a drug.
But, the fact of the matter is, I've been considering it for a long time and recent events combined with a few moments of reflection made me realize it was probably time.
It was about five years ago that I first started the blog, getting ready to write a novel and not realizing that I was going to lose my mind and self-publish like an idiot. I had a basic understanding of what I needed to do, but not much else. I had no resources, no experience, not a whole lot of help, and an instruction from more seasoned people that I needed to let people know who I am.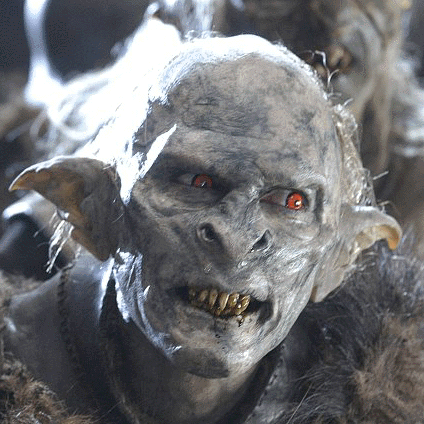 That didn't go so well.
It started out a little rough to begin with. Something I never told anyone was that my first five blog posts at the previous location received a total of about 10 hits. Yeah, do the math, rough start. But over time I managed to figure out how to roll in traffic that was a bit more respectable. As of my last look at the stats, I had over 57 thousand hits with most of it happening in a 12 month period. I hit my stride finally.
So one would be fair in asking why I would go and uproot the whole damn thing. The answer is that I had noticed some sudden dips in numbers that didn't make much sense. After consistently being able to predict how many hits I could get at any given time, I noticed that the numbers I was seeing were getting weaker rather than stronger. It was at this point that I decided to check around for information on the subject and discovered that certain social media sites happened to filter out content that they had deemed "unpopular". Basically, despite the fact I've heard from people they liked my material, it wasn't getting to them anymore.
Nail in the coffin? The post where I talked about the filter existing got six hits in the first 24 hours. Yeah, irony, right? It was clear that I was content non grata. I responded to this with complete maturity, I assure you.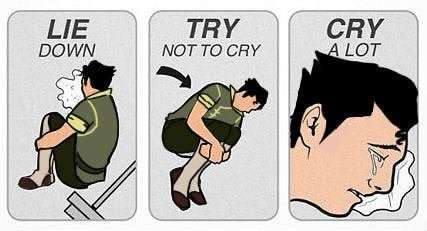 So it was time to come up with what I was going to do next. Three options were available to me:
1) Regroup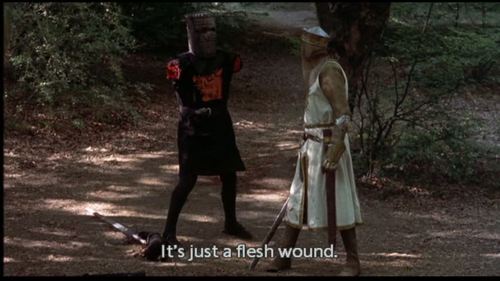 Regrouping requires finding  a way to get around the algorithm, relaunch the blog with a better foot forward, and then try to generate enough traffic to make this whole endeavor work until I could not only buy Ramen but the traffic I so desperately need.
2) Bail on the blog, focus on the other avenues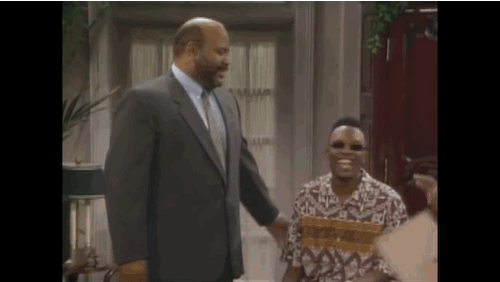 The alternative was to cut the blog loose and try my hand at making people notice me via social media alone. To say it would be hard to make people notice me with only the limited content allowed 140 characters or a  single picture would be understatement.
3) Go with my exit strategy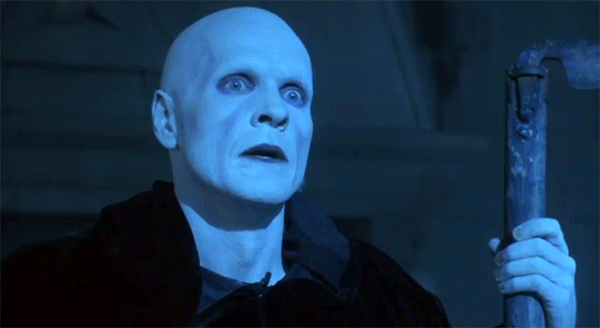 Uhm, I don't really have one that would be considered mentally healthy. There's only so many times you can sigh over a computer with 20 toolbars on its browser before you start plotting to intentionally break someone's computer. It'll serve a far better service as a paperweight. Consider it a mercy kill.
Obviously, I went for door #1 and decided that the best way to go about this was to redouble my efforts after sidestepping the filter. If you're a fan who just stopped seeing my links, welcome back, and if you're someone who just found me and doesn't like me yet – I promise to try to win you over.
First, I needed to move my blog to a new address with new headers. The algorithm worked on the idea of raw numbers along with meta data. So to get around it, the first goal is to change the meta data.
Second, a few flaws in my previous blog were apparent to me months ago but I didn't have the will to change them. First, trying to update more than 3 times a week on any given week was a stupid idea. I managed to hit five once or twice, but usually I would aim for five and hit 2 instead because I would get stuck on a topic that didn't pan out for me.
This led me to the revelation that I should also not hold myself to always updating certain things every single week. The Alterpedia, while a good way to demonstrate the world of the novels and how it differentiates from conventional lore, was a good idea but sometimes got hard to research thoroughly every single week. As a result, I almost never held up the concept of "every week" or "every other week" with it.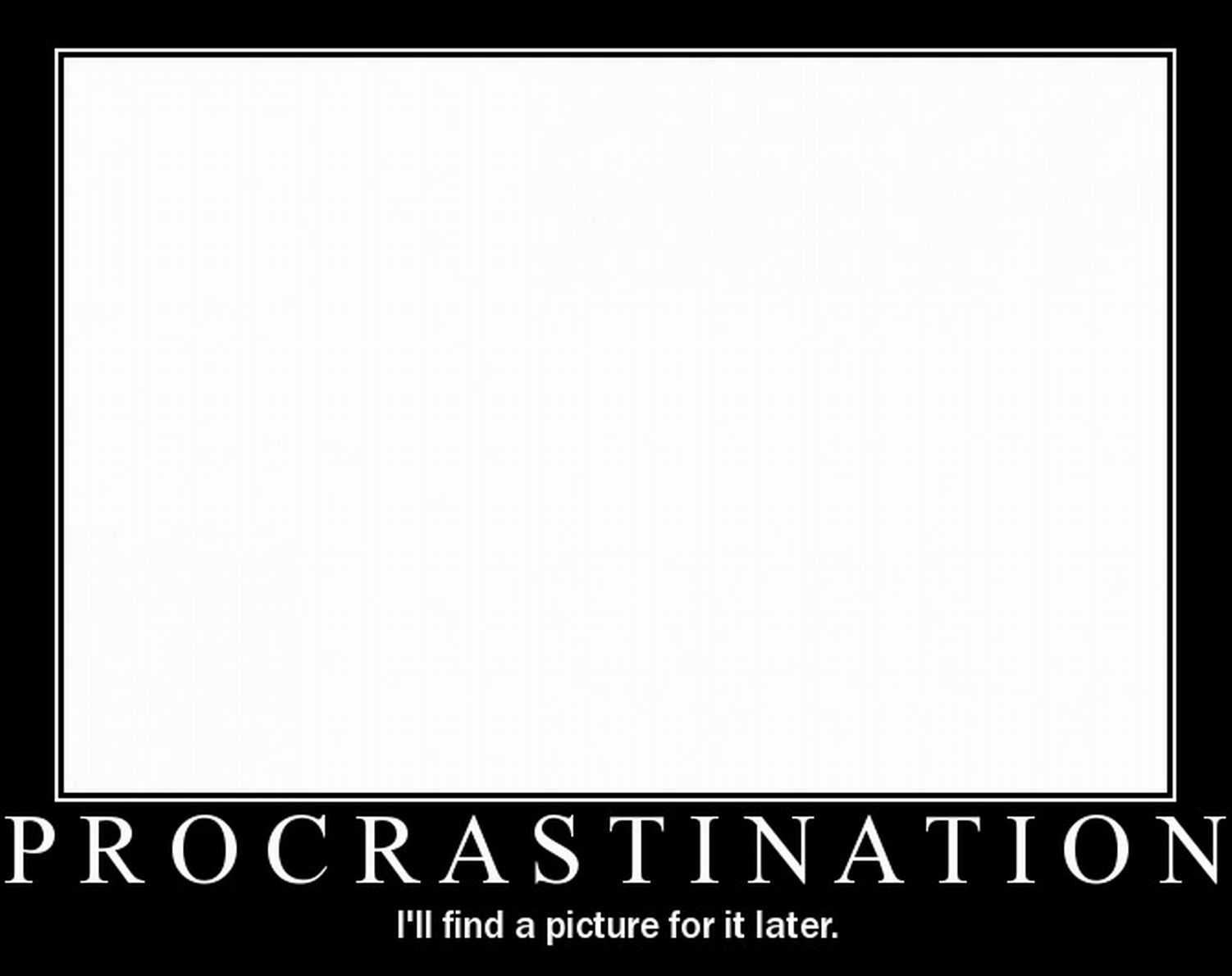 So, killing two birds with one stone, I am introducing a brand new schedule of updates for this blog. It is leaner, it is meaner, it is less likely to drive me to the brink of madness while sending me screaming naked into the foothills hopped up on whatever was in that brownie. Every week, starting next week, I will be aiming for three updates. The topic of these updates will be rotated whenever I am so inspired, but will be keeping within certain themes so people know when is a best time to look for whatever their favorite version of my rambling might be.
Monday
Me, Myself and My Opinions – I will talk about something that is near and dear to me, or even my personal experiences. This could be something like a topic I am passionate about or a personal story which I think may amuse you. I've discovered over the years that I actually have interesting personal experiences not a lot of others have had, and usually these tend to be funny.
Masochist Mondays – The tag may or may not return, but the theme will be the same. These will be the unpopular opinion puffin posts. If I think someone might take a swing at me over it, it'll fall under Masochist Mondays.
Mythology – Like the Alternative Mythology series? Want to know more about some obscure detail of global culture? Wondering why Vampires in mythology had no reflection? Monday
Mercenary – Want to make a request of me? Yeah, I'll occasionally do it here.
Miscellaneous – Uhm…. it's miscellaneous.
Wednesday
WTF – Something strike me as particularly odd in the week? Was I chewing on something that shouldn't possibly exist in our world? Did I just find out they were casting Jaden Smith as Shakespeare? Yeah, you'll hear about it here.
Writing – Writing tips, the writing process, pep talks to new writers. I'm going to do that here and try to make you feel a little more capable when you get out of here or give you something to think about as far as our industry goes.
Workshop – Have a question about writing that you need some help on? Though I've only published two books I've got more than a little experience in helping people untangle the writing knots they've tied. So far, since none of them have picked up a serious drinking problem, I think I've been fairly successful.
Whoring – Like Mercenary, but with a W.
Friday
Futurism – I really, really love science. I am so fucking ecstatic about shit that is just on the horizon. Cyborgs, AI, nano-techology: I'm going to rant and rave about it all when I find something that catches me.
Alterpedia – You know it, you love it, it's my world twisting the old folklore into something new and fresh. I'm going to make the creatures of folklore more tangible, introduce some science into the mix, and give you an idea of how some of the traditional stories could be an interpretation of something even stranger.
Alter Help – Sometimes, I just want to goof on something and make light of the world I made. This includes such classics as "Five Signs A Celebrity Is Using Witchcraft" and "How To Deal With Your Monthly Transformation".
Alterpedia Historia – Everything has a beginning, so how exactly did the world of Agent of Argyre come to start? You may notice this and the last two didn't start with an F, despite being on Friday and despite me having an obvious naming convention. Well that's because they're…
FICTION – Two things. First, sometimes I might feel like writing up a random short story. I've refrained from making short stories for the blog in the past because I felt that I was going to run too long for the average attention span. But I typically hit over 2,000 words in the first place. So let's do some fiction.
Second, and this hurts me, I am introducing "Fiction" and "Satire" tags to the mix in the coming weeks as I remap my tags to reflect the blog's new, more thoughtful direction. The reason for this is because, frankly, some people didn't get the joke. In fact, I've already had to post disclaimers for this reason.
As I said to the second person, I am a novelist. I made this fairly clear by the fact I shilled my books at the end of almost every post I've ever made for the last two years. However, I think it's become apparent that people didn't catch on they were fiction. I had faith that humanity would understand that, when I was talking about whether or not Charlie Sheen was actually a warlock with tiger blood, I was joking. However, apparently, no,  some people don't understand this: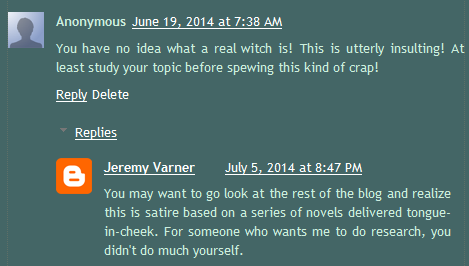 And, I would think, as I write a post about ghosts on Halloween of all days, people would recognize that I was getting into the spirit of things and applying the stories to my own work. Once again… nope: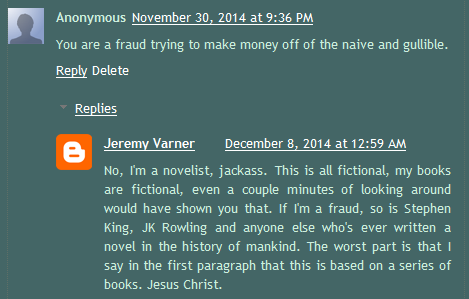 So I'm going to put the disclaimer here, not because I feel like those people need to take priority, but because I'm afraid there might be some genuine people who didn't get the memo that I am a novelist and not some new age snake oil salesman. I am a novelist, I write novels, I write fiction, I write the worlds that do not exist. When I watch Shaun of the Dead…
I don't think it's a documentary explaining why the English are so pale.
As always, please check out my books if you haven't already, follow me on Twitter, and send me requests either through the comments section or my twitter account. And, as a final note, don't forget to like, share, retweet or favorite any link you might get from me. After all, if you don't, North Korea wins. (btw, that's gonna be a WTF in a couple weeks, no doubt)