As I pointed out this last Friday with the passing of Leonard Nimoy, the geek community as a whole has a somewhat unique relationship with what we love. We tend to find meaning in it in a way that keeps us going from day to day. We're not all obsessed by it, but the ones who are have gotten there as a natural progression of finding more and more purpose in what they've latched onto.
And as the love for these creations grows you find that it starts to bleed into the real world over time. Every major movie release in the fantasy or sci-fi genres will almost universally have at least one group of cosplayers show up. Whenever a new Harry Potter book hit the shelves towards the end of the series – you found an awful lot of Harry look-a-likes lining up around the corner. In a very literal sense, once you get to a certain point of fandom, you're going to be wearing that fandom on your sleeve.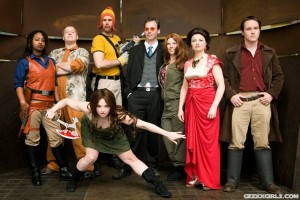 Once you hit a certain level, once you're mingling with those people, it's impossible to deny that it has become part of your world. It's because of this that you'll find corners of the fan community where people are willing to argue vehemently about every little detail found in their chosen universes. Trekkies will argue who the best Captain was. Star Wars fans will argue over whether or not Han was bullshitting when he used the term "parsec" wrong. And, of course, fans of Lord of the Rings will constantly bicker over those damned eagles.
But, as a writer, I think it's time we fess up about something to the fans. Most details that get added to our stories are for three reasons – cool factor, flavor, and pragmatism. And the details we don't add?
We…didn't think of them…