Rising and shining with the get up and go of a zombie after the rigor sets in, I glanced at my blog calendar and realized quickly that it wasn't in the cards. Today was to be an Alternative Mythologies day, but that requires a lot of research, double checking, and most importantly – the ability to read and write at the same time. I sit here now able to to type stream of consciousness but otherwise unable to do most other things. Why? Because the air quality has taken a nosedive, the entirety of my body hurts, and I turned to my one true friend in this time of need – Benadryl.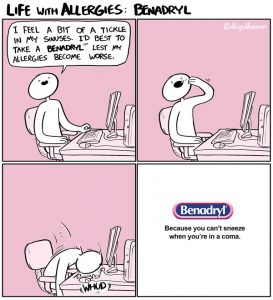 Not the good stuff, mind you, that's ramen money there. No, I take a cheap generic version in a little pink pill. And because of this, I often refer to these times in my life as "the pink haze". Yes, the pink haze, the closest I get to actually "high" in my life. Between waking up face down on the futon and the eventual return to the embrace of darkness, I stare into space and have random thoughts for a good few hours before rising as a pink fueled clumsy monstrosity detached from the concerns of the mortal world. This entity I have become drifts from thought to thought while being consumed with an insatiable hunger and a desire for everything to stop being hot. This beast shall soon consume all ice cream within the house, I fear.
But as I drifted from thought to thought, one felt like it was worth sharing: What happens to all the shitty art?