(To ensure there's no confusion here: I am not a lawyer, I am a writer who has an interest in these subjects because I would like to not be sued or ripped off. Noble motivations, I assure you.)
Copyright, it's a funny thing. Having recently stepped into a hot debate, I found myself watching people argue with certainty over the nature of copyright law. Amusingly, most of these people were so absolutely sure they knew how copyright law works that you'd think they were all lawyers. For or against, both sides of the debate thought they knew for a fact what the law said on the subject. In fact, both were pretty adamant that the other side were thieves. And they "knew for a fact" because, according to these well-meaning souls, copyright is a simple to understand system that follows common sense. So, once I stopped laughing, I started writing on the subject.
As I've been pointing out ever since, there isn't always as clear a picture as people like to believe there is. In some very black and white areas, it works – you can't just duplicate someones work or distribute pirated copies (usually). But once you get to the matters of intellectual property, you'd be amazed how hard it is to parse out the solution. The system as it stands today has many glaring flaws that make it difficult to trust that it's always going to work. Certain provisions within the copyright and trademark laws are intentionally murky, some things are entirely subjective, and most of the time you can't tell what the truth is until a judge decides. This results in a system where no one is really able to get anything clarified until a lawsuit comes into the conversation. Unfortunately, the little guy can rarely afford that, so the big boys usually win.
In the end, most of us depending on the law to protect our works are depending on people acting in good faith. Generally, we like to hope that people are honest players. We like to imagine that legal action is like a big red button behind a glass case you break only in case of emergencies. In a grey situation, we like to imagine that people stop to hesitate and consider whether they should actually do it. No one would blindly and willfully hit that button just for the sake of hitting it, right?
Wrong.
A plethora of people abuse the system to lock it in their favor even if it shouldn't be. A great example would be the situation mentioned last time when Saban, owners of Power Rangers, sued a game parodying Super Sentai and other Tokusatsu series. This game existed well within fair use, being a parody based on an entire genre that used no copyrighted or trademarked materials. But, apparently, when you see a team of colorful characters climbing into a bizarre machine – Saban wants you to think of them.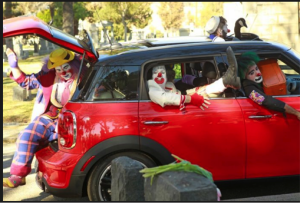 It's a ridiculous situation, but one that happens all the time. Some companies go out of their way to sue for things they have no right to sue over. They'll plant themselves on a copyright, trademark, or patent and then use that to strong-arm other companies. But, to be fair to Saban, they do have some legal claim to the IP and that makes them a lesser of evils. Instead, to find a really glaring example of copyright abuse in a similar situation, I'd like to tell you about a franchise from Japan and why a lot of you probably haven't heard of it before… Continue reading Copyright Confusion: Macross Edition! →