As spring time rolls around and certain holidays come to pass, a few questions inevitably start popping up. Our modern holidays, inspired long ago by more ancient traditions, don't make a lot of sense to us in our modern frames of reference. For instance, the Easter Bunny references a spring hare that traveled with some old European deities. Coloring eggs for Easter is part of an old Norse tradition representing the dawn. And, as for St. Patrick's Day, there's a whole lot we don't fully understand about these little bastards.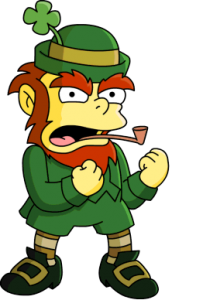 The Leprechaun as we know them today have been changed repeatedly over the course of centuries. Beginning as part of Irish folklore, they've since become entwined with Irish stereotypes and traditions that have long since lost meaning.  With even the origin of their name not being entirely clear, with some sources citing "little people" and others saying it was referring to their jobs as shoe cobblers, it makes sense they didn't stay firm in all that time. Even the color they wear and the way they behave has been altered to suit contemporary mindsets over the ages. By this point, they're essentially an inkblot test of how you feel about the Irish – for better or worse.
But one thing that hasn't really changed much about Leprechauns over the ages is the fact that they are magical, lucky, and generally holders of great wealth. Some stories say this is due to their workaholic nature, acting in a miserly fashion and hoarding every coin they could possibly get. Others say that it's due to their magical nature and ability to do things no human could. And some even say they found the treasures lost or buried by people and simply kept them. But all variations of this story generally have one unifying detail: If you can capture the little shits, they have to bargain their way free – potentially even giving you the location to their treasure (which is one of the few things they're bound to tell the truth on).
Just one problem for you: they're trickster spirits, and they're not about to go down willingly. Continue reading Mythology Monday: Trapping A Leprechaun →